WHAT YOU REALLY NEED TO KNOW
ABOUT COSMETIC SURGERY
Full Text from Dr. Berman's Book
Chapter 8
GORE-TEX® SYNTHETIC IMPLANTS
Gore-Tex® is rapidly becoming one of the most popular implant materials available in cosmetic surgery. Dating back to 1983, I was actually the first cosmetic (or plastic) surgeon in the world to use this material for cosmetic/reconstructive surgery. Since then, there have been numerous investigational and clinical reports about the effectiveness and safety of the material in cosmetic/plastic surgery - a few of those by me. Nonetheless, the material has been used in other areas of the body long before it was introduced into cosmetic surgery. Its uses include vein and arterial grafts, hernia patch repair, as well as heart patch material. The literature on this material is extensive. With this long history, it's somewhat surprising that it was only recently approved by the FDA in 1994 for use as Subcutaneous Augmentation Material.
Although we simply call the material Gore-Tex®, (yes, it is the same kind of material we find in our ski and camping outfits) the generic name is actually "expanded-polytetrafluoroethylene" (e-PTFE for short). Polytetrafluoroethylene is commonly known as Teflon®. Because it is "expanded", it has a micro-porosity (little tiny pores throughout the material) that is large enough to allow for tissue ingrowth without forming typical scar tissue encapsulation. This allows for the implant material to become incorporated with the body in a much more natural way. The material is a permanent implant material, in other words, it does not degrade or change its form after implantation. This is very important. If for whatever reason (infection, unpleasant appearance, trauma, etc.) it is necessary to remove the material, it can be completely removed.
Since 1983, I have been using this material for procedures on the nose, the cheeks, the chin, and several other areas of the face. In those cases the material is often bonded to silicone rubber. The silicone rubber provides the shape while the Gore-Tex® provides an enhanced surface characteristic which more optimally interfaces with the body. Some other surgeons, most notably Dr. Kris Konrad from Canada, have advanced the use of Gore-Tex® for softening of the nasal/labial folds, enhancing the lips and filling in other superficial facial defects. A simplified technique has been developed whereby strips or soft tubes of Gore-Tex® can be inserted under the skin. This has been most useful for enhancing the lips. It may also be used for filling in the nasal labial folds, and even in deep glabellar (frown-lines) creases. It is most useful where there are deeper folds under the skin. It might be used in many cases where Collagen or fat-grafting would be considered. It is likely that additional uses of the material will be advanced over time.
Fees for Gore-Tex® placement will vary depending on where and how it is used. I would suggest prices would range from $700 - $2,500 based on how extensive the procedures are.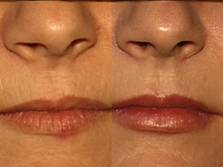 Gore-Tex® placed in the borders of the lip, not only give fullness, but help smooth some of the lines. Sensation is left in tact and function is not disturbed.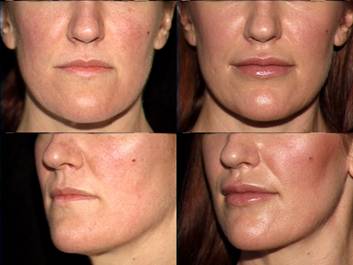 Another patient with the newer tubular form of Gore-Tex® one week later.