WHAT YOU REALLY NEED TO KNOW
ABOUT COSMETIC SURGERY
Full Text from Dr. Berman's Book
Chapter 7
COLLAGEN
Injectable collagen has become quite the rage for the temporary filling of small facial lines and wrinkles. It is injected in a semi-liquid form into the dermal level of the skin through very tiny gauge needles. Developed and sold by the Collagen Corporation, it is processed from bovine (cow) tissues. The collagen is treated in such a way to make it reasonably compatible in humans. When it was originally introduced we envisioned results lasting 6 months or longer. Actual clinical experience reveals results more realistically lasting around 3 months.
Because the material is a foreign body which the human body does not accept, though it may tolerate it for a while, it is eventually degraded and reabsorbed into the body. Thus, most people who use collagen find that they must repeat it every 3 to 4 months.
Prior it its initial use, the patient needs to be skin tested for possible allergic reaction. Often, a second skin test is recommended to increase certainty of tolerance. Allergic reactions to collagen appear as raised, red, irritative foci which can take up to 3 months to resolve. Fortunately complications are rare, though there can be bumps or occasional bruising. It is probably best to have it done at least a week before you "need" it to be on the safe side.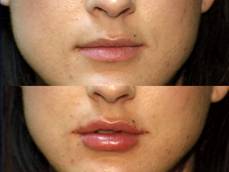 Lip augmentation with collagen is a simple way of seeing if you like fuller lips. It only lasts for two to three months, but gives you a good idea how your lips would look if you're not certain you want to try more permanent plumping techniques.
The price of collagen varies depending upon the quantity used. This is generally 1 to 2 cc's. In general, $350/cc would be a middle ground price for collagen injections.