CURRICULUM VITAE
Personal
Born: November 13, 1952 - Philadelphia, Pennsylvania
Married - wife - Saralee
Children - Sean
Dogs - Vinnie, Lola
Professional
Undergraduate education: U.C.L.A. B.A. 1974
Graduate education: CHICAGO MEDICAL SCHOOL M.D. 1979
Internship: General Surgery - 1980

Loma Linda University / White Memorial Medical Center, Los Angeles, CA Jerrold Longerbeam, M.D. - chief

Residency: Otolaryngology - Head and Neck Surgery - 1983

Loma Linda University / White Memorial Medical Center, Los Angeles, CA - Leland House, M.D. – chief 1980-82

William Hall, M.D. - chief 1982-83

Private practice: Cosmetic Surgery

Facial Plastic and Reconstructive Surgery
Adult Stem Cell Investigative Deployment

Contact Information:

Main Office
120 S. Spalding Dr. Suite 300
Beverly Hills, CA 90212
T: 310 274-2789
F: 310 943-1960

Faculty: Clinical Instructor - Dept. Oto/Head and Neck Surgery

Loma Linda Univ./White Memorial Medical Center 1983-86, Clinical Instructor – Facial Plastic Surgery – University of Southern California School of Medicine (2001 – current)

Co-Medical Director – California Stem Cell Treatment Center with Elliot Lander, MD - founded Nov. 2010
Director of Cosmetic Division – WA – Optimum Health Care, Shanghai, China (February 2011 – 2015)
Co-Founder Cell Surgical Network – with Elliot Lander, MD – founded May 2012
Founder – Cells on Ice, Inc. – SVF and stem cell cryopreservation and laboratories in affiliation with American CryoStem, February 2015
Advisory Board for the Medical Protective Company – May 2013 - current
Board of Directors – International Cell Surgical Society – 2013 - current
Board of Directors – Academy of Regenerative Practices – May 2015 - current
Chairman – RCC – RE Stem Biotech / Cell Surgical Network / China – headquarter in Suzhou, China, started December 2014
Licensure: California State
Board Certification: Diplomate of the American Board of Otolaryngology - Head and Neck Surgery (ABO) Oct. 1983
Fellow American College of Surgeons Oct. 1990
Diplomate of the American Board of Cosmetic Surgery (ABCS) Feb. 1989

Maintenance of Certification – ABCS – recertified May 2009

Consultant for Palomar Medical Technologies – Teach Advanced Fat Grafting Techniques using the Adivive (Lipokit) System (2009 – 2013)
Additional:

Fluent in Spanish
Re-certified - Advanced Cardiac Life Support (2016-18)
Volunteer Medical services - Venice Family Clinic 1983 – 1998
Chairman - Research Advisory for Surgical Technologies Laboratory, Inc., Columbia, South Carolina
Patents:

Pocket Protector® - breast implant device
SAF-T-VAC™ - suction device for cautery

SUBSTANCE OF ABUSE – a novel, published Aug. 2001
Hospital Affiliations
St. John's Hospital and Health Center
Santa Monica/UCLA Hospital Medical Center (1983 – 2014)
USC - Hudson & LA County
Societies and Awards
American College of Surgeons - FELLOW
American Academy of Otolaryngology - Head and Neck Surgery - FELLOW
American Academy of Cosmetic Surgery – FELLOW

Immediate Past-President - 2011
President – Jan. 30, 2010 - 2011
President-Elect 2009
Board of Trustees – from 2003 - 2012
Program Chairman – 2010 Annual Scientific Meeting AACS
Program Chairman – 2004 World Congress Liposuction
Finance Committee – 2002, 2003
Chairman - Membership Committee 1999-2002
Chairman - Continuing Medical Education Committee 1998-99
Chairman – Nominating Committee - 2009
Nominating Committee 1998, 2000
Editorial review for - American Journal of Cosmetic Surgery

American Board of Cosmetic Surgery – Board of Trustees – 2004 - 2010 (includes examiner for the ABCS Board Exam)
American Academy of Aesthetic and Restorative Surgery - Charter Member
American Academy of Facial Plastic and Reconstructive Surgery - ASSOCIATE MEMBER (1984 – 1999)
Los Angeles Society of Otolaryngology - Head and Neck Surgery
Los Angeles County Medical Association (1983 – 1999)
California Medical Association (1983 - 1999)
American Medical Association (current)
American Society of Liposuction Surgery
American Society of Cosmetic Breast Surgery - Fellow

President (term 5/03 – 5/04)

California Academy of Cosmetic Surgery

Board of Trustees 1998 - 2013
President (8/99 - 11/01)

Board of Trustees – International Cell Surgical Society
Board of Trustees – Academy of Regenerative Practices
Honorary Member – French Society of Aesthetic Surgery – presented May 2006
Top Doctors in Southern California – L.A. Magazine - Cosmetic/Plastic
Surgery – Dec. 2008, Jan. 2010, Jan. 2011, Jan. 2012, Jan.2013, Jan. 2014, Jan. 2015, Jan. 2016
2010 Luisa Award – Outstanding Contributions in Cosmetic Surgery presented by the International Society of Cosmetogynecology
Guardian of the Practice Award – presented Oct. 9, 2010 by the California Association of Nurse Anesthetists, Pasadena, CA
2011 Best Scholarly Article Award from the American Journal of Cosmetic Surgery – "The Double Columellar Strut: An Adjunct to Improve the Nasal Tip"
2016 – Lifetime Achievement Award from The Aesthetic Show, Las Vegas, NV, July 9, 2016
Medical Board of California - participated in Liposuction Regulation development as representative of the AACS and CACS, 1998
Research, publications, papers or presentations
Resident projects:

"The Neck Mass - Carotid Aneursysm in Patient with Neuro-fibromatosis" - presented to L.A. Society of Oto/Head and Neck Surgery, 4/83 and presented to Annual Meeting of AA)-HNS, Las Vegas, 8/84.
"Relapsing Polychondritis - case report and literature review." with Andrew Ordon, M.D. - presented to L.A. Society of Oto/Head and Neck Surgery, 4/83.
"Chondrosarcoma of the Larynx" with Harrell Robinson, M.D., presented to L.A. Society of Oto/Head and Neck Surgery, 4/81.

Post-graduate projects:

"The Use of Gore-Tex™ e-PTFE Bonded to Silicone Rubber as an Alloplastic Implant Material," (contributing authors - Pearce, WJ and Tinnin, M.) LARYNGOSCOPE, May 1986. Presented to Western Section of American Triologic Society, Inc., San Francisco, CA 1/11/86.
"Use of Gore-Tex™ Materials in Facial Plastic Surgery," presented to West.Sect. AAFPRS, Century City, CA 1/9/87.
"Use of Computer Graphics in Rhinoplasty: 1 Year Experience," presented to West.Sect.Triologic Society, Century City, CA 1/10/87.
"Gore-Tex™/Silicone Bonded Implants," presented at "Latest Advancements in Cosmetic Surgery of the Face", Foundation for Facial Plastic Surgery, Newport Beach, CA 8/5/87.
"The Use of Gore-Tex™ Materials in Cosmetic Surgery," presented at the Scientific Meeting of the American Academy of Cosmetic Surgery, Century City, CA 2/7/88.

FACULTY - American Academy of Cosmetic Surgery - Scientific Meeting, course instructor on Computer Imaging - 2/88
COSMETIC SURGERY - IN SEARCH OF PERFECTION - contributing author book published 1987.
Course instructor for The Learning Annex - Cosmetic Surgery course, monthly seminars for the general public 1987-88
"Rhinoplasty '89 - Perspectives on form and Function" - lecture presentation to Family Practice Program at Santa Monica Hospital 12/5/88
FACULTY - American Academy of Cosmetic Surgery - Annual Scientific Meeting, Century City, CA - computer imaging 1/89
"The Use of Gore-Tex™ Materials in Facial Plastic Surgery" - presentation for 5th International Symposium of Facial Plastic and Reconstructive Surgery - Toronto, 6/89
"The Use of Gore-Tex Materials in the Practice of Cosmetic Surgery", AM. JOURNAL COSMETIC SURGERY, Vol.6, No.1, 1989
FACULTY - Annual Meeting of Am. Acad. Facial Plastic and Reconstructive Surgery - computer imaging instructor, New Orleans, LA - 9/89
"Marketability of Computer Imaging," FACIAL PLASTIC SURGERY, Vol.7, No.1, 1990
"New Perspective on Diagnosis and Treatment of the Aging Lower Lids" - presentation Annual Scientific Meeting of the American Academy of Cosmetic Surgery, Century city, 1/90
"Local Anesthesia with Sedation: Safe, Simple and Effective" - presentation Annual Scientific Meeting of the American Academy of Cosmetic Surgery, Century City, 1/90
FACULTY - "Diagnosis and Treatment of the Aging Lower Eyelid;" "Out-Patient Surgery Workshop: Local Anesthesia with Sedation;" "Gore-Tex™ Materials in the Practice of Facial Plastic Surgery;" "Gore-Tex™ Materials in Rhinoplasty" presented at The Foundation of Facial Plastic Surgery - Annual Meeting, Newport Beach, CA 8/9-11/90
"Diagnosis and Treatment of the Aging Lower Eyelids" - paper presentation, Western Section of AAFPRS, San Francisco 2/2/91
"The Long-term Use of Gore-Tex™ STP in the Practice of Facial Plastic Surgery" - paper presentation - Western Regional Meeting of AAFPRS - Beverly Hills, CA 2/1/92
"The Long-term Use of Gore-Tex™ STP in the Practice of Cosmetic Surgery" - paper presentation - Annual Scientific Meeting of the American Academy of Cosmetic Surgery, Century City, CA 2/13/92
"Gore-Tex™ in Cosmetic Surgery", and "Autologous Fat Transplantation for Correction of Aging Lower Eyelids" - presentations at International Society of Plastic, Aesthetic, and Reconstructive Surgery - Annual meeting, Rome, Italy, 9/2/92
"Long-term Use of Gore-Tex", "New Perspectives in Diagnosis and Treatment of Aging Lower Eyelids", and "Diagnosis and Treatment of the Nasal Labial Fold" - presented at the Foundation for Facial Plastic Surgery meeting, Aspen, CO, 3/93
"Gore-Tex™ in Nasal Surgery", presented at The World Congress on Rhinoplasty special tribute to Richard Webster, MD, American Academy of Cosmetic Surgery, Phila.,PA, 5/1/94
FACULTY - "Augmentation Breast Surgery - Personal Technique," American Society of Cosmetic Breast Surgery, Newport Beach, CA 6/17/94
"Gore-Tex™ e-PTFE in Nasal Surgery and Review of Long Term Results," AMERICAN JOURNAL OF COSMETIC SURGERY, Vol.11, No.3, 1994
"The Long Double Columellar Strut in Rhinoplasty," Gore-Tex™/Silicone Rubber Custom Nasal Tip Prosthesis," "Gore- Tex™ Material for Lip Enhancement," and Instructional Course presentation on "Gore-Tex™ as an Alloplastic Material in Cosmetic Surgery." Annual Scientific Meeting of the American Academy of Cosmetic Surgery, Los Angeles, CA 1/20-22/95
FACULTY - Symposium on Cosmetic Breast Surgery - "Prevention of Complications" and "Treatment of Capsule Contracture," American Academy of Cosmetic Surgery and American Society of Cosmetic Breast Surgery, Baltimore, MD, 5/95
FACULTY - American Society of Cosmetic Breast Surgery - "Prevention and Management of Complications, "Treatment of Capsule Contracture," and Videotape Presentation, Newport Beach, CA 5/17/96
"The Aging Face: New Perspectives in Diagnosis and Treatment," presentation to the Annual Scientific Meeting of the American Academy of Cosmetic Surgery, Rancho Mirage, CA 1/17/97
FACULTY - presentations for meeting of American Academy of Cosmetic Surgery, Aspen, CO - Complications and innovations - 1) Rhinoplasty Skin Necrosis, 2) Gore-Tex™ Lip Enhancement, 3) Abdominoplasty Flap Necrosis, 4) Subglandular Breast Augmentation, 5) Treatment of Breast Capsular Contracture, and 6) Treatment of Capsular Contracture with Seroma and Mal- position of Revised Prosthesis. Aspen, CO, 4/97
FACULTY - presenter at American Society of Cosmetic Breast Surgery, Annual meeting, Newport Beach, CA 5/16/97
FEATURED SPEAKER - "The Aging Face: Different Perspectives in Diagnosis and Treatment," Total Body Contouring Meeting, American Academy of Cosmetic Surgery, Atlanta, GA, 10/17/97
COSMETIC SURGERY - WHAT YOU REALLY NEED TO KNOW - self-published book on cosmetic surgery authored by Mark Berman, MD, 12/97
FACULTY - presenter at American Society of Cosmetic Breast Surgery, Annual meeting, Newport Beach, CA 3/13/98
"The Aging Face: Different Perspective in Diagnosis and Treatment,"AMERICAN JOURNAL OF COSMETIC SURGERY, Vol.15, No.2, 1998
"Volume Replenishing for Treatment of the Aging Face: Emphasis on the Upper Eyelid," presented at the Annual Scientific Meeting of the American Academy of Cosmetic Surgery, Los Angeles, CA 1/28/99
Invited Faculty - "Autologous Fat Transplantation for the Treatment of the Aging Eyelid", "Gore-Tex : What Works and Where", Symposium on Facial Rejuvenation, Am. Academy of Cosmetic Surgery, Hilton Head Island, S.C., 4/23/99.
FACULTY - presenter at American Society of Cosmetic Breast Surgery, Annual meeting, Newport Beach, CA 5/14/99
Invited Speaker - "Volume Restoration to Improve the Aging Face - Emphasis on the Upper Eyelid." presented at the 12th International Congress on Aesthetic Medicine, Rio De Janeiro, Brazil, 11/6/99.
Guest Speaker - Face-Lifting/Aging Face Treatment - UCLA Maxillo/Facial Dept. - Monthly Cosmetic Surgery Meeting, 12/15/99.
Invited Faculty - American Board of Cosmetic Surgery - Review Course - Facial Cosmetic Surgery, 3/4/00
Invited Speaker - 1) Volume Restoration for the Aging Face, 2) The Double Columellar Strut for Improving the Rhinoplasty Tip, 3) Preventing Complications in Breast Augmentation - 2nd Annual Advances in Cosmetic Surgery - Foundation for Facial Plastic Surgery - Aspen, CO, 3/15-18/00
Examiner - Oral Exams, American Board of Cosmetic Surgery Annual Board Examination, April 15, 2000
Invited Speaker - 1) Fat Augmentation to the Brow and Periorbital Area, 2) Anatomy and Management of the Aging Neck, 3) Live Surgical Demonstration of Volume Restoration with Fat Grafting - Jules Stein Eye Institute - New Techniques in Facial Rejuvenation, etc., Los Angeles, CA, May 12 - 13, 2000
FACULTY - presenter at American Society of Cosmetic Breast Surgery, Annual meeting, Newport Beach, CA 5/19/00
"Volume Restoration to Correct the Aging Eyelid," presented to the 2nd Annual Education Seminar of the California Academy of Cosmetic Surgery, Palm Springs, CA 11/12/2000
"Rejuvenation of the Upper Eyelid Complex with Autologous Fat Transplantation," The American Journal of Dermatologic Surgery, 26:12: December 2000
FACULTY - presented: "The Emperor's New Clothes" - A Different Perspective on the Diagnosis of the Aging Face; Volume Restoration of the Aging Face; Third Annual Symposium on the Latest Advances in Cosmetic Surgery, Foundation for Facial Plastic Surgery, Aspen, CO, 2/28-3/3-01
Examiner - Oral Exams, American Board of Cosmetic Surgery Annual Board Examination, April 21, 2001
Examiner - Oral Exams, American Board of Cosmetic Surgery Annual Board Examination, April 21, 2001
FACULTY - presentor at American Society of Cosmetic Breast Surgery, Annual meeting, Newport Beach, CA 4/27-30/01
Invited Speaker - "Lipoaugmentation in treating facial atrophy" and "Emphasis on repairing iatrogenic defects", 3rd Pan-Am Congress on Aesthetic Medicine/ 8th Brazilian Congress on Aesthetic Medicine, 6/29-30/01
Invited Speaker - "Fat Transfer - Exploring the Space Lift" - UCLA/AACS Cosmetic Surgery Fellowship Lecture Series, UCLA, Los Angeles, CA, 7/18/01
FACULTY - presented: "Upper Eyelid Restoration with Volume Restoration" and "The Space Lift"; Annual Meeting of the Foundation for Facial Surgery, Newport Beach, Ca 8/9-10/01
Featured Speaker, "What's Gravity Got to do With It - Exploring the Space Lift", American Academy of Cosmetic Surgery, New Orleans, LA, 10/12/01 (meeting canceled/ NYC bombing)
Invited Speaker - "Exploring the Space Lift", 3rd Annual Education Seminar for the California Academy of Cosmetic Surgery, Palm Springs, CA 11/4/01
Invited Speaker - Stanford University Head and Neck Surgery Dept, Grand Rounds, "Exploring the Space Lift" - Jan. 17, 2002
FACULTY - UCLA Eyelid Rejuvenation Meeting and Live Surgery Demonstration, my office, Jan. 23, 2002
Examiner - Oral Exams, American Board of Cosmetic Surgery Annual Board Examination, April 13, 2002
Faculty – The Space Lift – Repairing Iatrogenic Defects, The 16th Annual Symposium on the Latest Advances in Cosmetic Surgery of the Face, Foundation for Facial Plastic Surgery, Newport Beach, CA, 8/9/02
Invited Speaker – Exploring the Space Lift, Minimally Invasive Aesthetic Surgery of the Face, UCLA Medical School, Big Island, Hawaii, 8/31/02
Faculty – Reliable Small Volume Fat Grafting – Instruction Course for Fall Meeting of the Am Acad. of Facial Plastic and Recon Surgery, San Diego, CA, 9/21/02
Invited Speaker – Exploring the Space Lift – St. John's Hospital Head and Neck Surgery Monthly Meeting, October 23, 2002
Speaker – Space Lift – Repairing Iatrogenic Defects, Annual Meeting Of the American Academy of Cosmetic Surgery, Rancho Mirage, CA, 1/24/03
Faculty - presentor at American Society of Cosmetic Breast Surgery, Annual meeting, Newport Beach, CA 5/30-6/1/03
Invited Speaker – Exploring the Space Lift; Introducing the Liposuction Trauma Factor; Foundation for Facial Plastic Surgery, Lake Tahoe, CA, March 5-8, 2003
Invited Speaker – The Space Lift – Repairing Iatrogenic Defects; Foundation for Facial Plastic Surgery, Newport Beach, CA 8/6/03
Faculty – The Space Lift – Repairing Iatrogenic Defects; Introducing The Pocket Protector – A New Breast Implant Device; American Academy of Cosmetic Surgery, Fall Symposium on Body Contouring, 10/10/03
Speaker – Introduction to the Pocket Protector – A New Breast Implant Device; Anterior Face Lift and Space Lift, Annual Scientific Meeting American Academy of Cosmetic Surgery, Hollywood, FL, 1/29/2004
Faculty – Anterior Face Lift and Space Lift, Double Columellar Strut, Foundation for Facial Plastic Surgery, Tahoe, CA, 2/25/04
Faculty - presenter at American Society of Cosmetic Breast Surgery, Annual meeting, Newport Beach, CA 6/1-3/04
"The Pocket Protector: A New Breast Implant Device," Am J Cosmetic Surgery, Vol.21, No.3 27-41, 2004. (original article)
Invited Speaker – The Space Lift: The Art of Fat Grafting, Foundation for Facial Plastic Surgery, Newport Beach, CA, 8/8/04
Program Chairman, 2004 World Congress of Liposuction, American Academy of Cosmetic Surgery, St. Louis, MO, 10/1-3/04. Faculty; Present – "Space Lift: State of the Art of Fat Grafting; Taught Instructional course on Fat Transfer.
Speaker – The Pocket Protector: 100 Cases; Annual Scientific Meeting, American Academy of Cosmetic Surgery, San Diego, CA 1/29/05
Faculty – Space Lift: The Art of Fat Grafting, Foundation for Facial Plastic Surgery, Lake Tahoe, CA, 3/4/05
Speaker – The Pocket Protector: 130 Cases; Space Lift – Blepharoplasty; French Aesthetic Surgery Society, Paris, France, May 20-21/05
Faculty – Personal Preferences in Cosmetic Breast Surgery, American Society of Cosmetic Breast Surgery, Newport Beach, 6/3/05
Faculty speaker – Blepharoplasty Doesn't Mean You Have to Cut, Foundation for Facial Plastic Surgery, Newport Beach, CA 8/4/05
Guest speaker – The Pocket Protector: 145 Cases – keynote speaker Invited to Mentor Corp. Conference, Dallas, TX, 8/6/05
Faculty – Intense Learning Session – Autologous Fat Grafting fo Facial Rejuvenation – present 1) Volume and the Aging Face, and 2) Periorbital Rejuvenation Using Fat; Fall Meeting – American Academy of Facial Plastic and Reconstructive Surgery, Los Angeles, CA 9/23/05
Faculty speaker – 1. New Technologies Session: The Pocket Protector (one hour presentation); 2. Space Lift (Fat Graft) Blepharoplasty; 3. The Pocket Protector: A New Paradigm in Breast Augmentation – 157 Cases, 22nd Annual Scientific Meeting of the American Academy of Cosmetic Surgery, Orlando, Florida, 1/26 – 1/29/06
Examiner - Oral Exams, American Board of Cosmetic Surgery Annual Board Examination, Chicago, IL, April 22, 2006
Faculty – Personal Preferences for Breast Augmentation; Treatment of Capsular Contracture – The Pocket Protector, American Society of Cosmetic Breast Surgery, May 5, 2006
Invited Speaker – Facial Fat Grafting (Space Lift) video presentation; Combination Space Lift and Anterior Face Lift; Double Columellar Strut, French Society of Aesthetic Surgery, Paris, France, May 19-20, 2006
Faculty speaker – Facial Fat Grafting, video presentation American Society of Liposuction Surgery in conjunction with Annual Scientific Meeting of the American Academy of Cosmetic Surgery, Phoenix, AZ, January 24, 2007
Faculty speaker – Facial Fat Grafting – two hour seminar (with Dr. Suzan Obagi) presented at the Annual Scientific Meeting of the AACS, Phoenix, AZ, January 27, 2007
Examiner – Annual Oral Examination for American Board of Cosmetic Surgery, Chicago, IL, April 20, 2007.Faculty – Varied Choices in Breast Augmentation, American Society of Cosmetic Breast Surgery, Newport Beach, CA, May 4, 2007
Faculty – Video Presentation – The Space Lift (Autologous Fat Transfer); Annual Meeting of the French Society of Aesthetic Surgery, Paris, France, May 11-13, 2007
Faculty speaker – Facial Fat Grafting – Repairing Iatrogenic Defects, American Society of Liposuction Surgery at AACS Annual Meeting; What's New in Breast Augmentation, American Academy of Cosmetic Surgery; Treating Rippling Associated with Breast Augmentation, presented at Annual Scientific Meeting of the American Academy of Cosmetic Surgery, Orlando, FL, January 17 – 20, 2008
Faculty speaker – The Art of Autologous Fat Transplantation – two hour seminar presented with Dr. Suzan Obagi at the Annual Scientific Meeting of the AACS, Orlando, FL Jan. 17, 2008
Faculty speaker – Varied Choices in Breast Augmentation Surgery; Prevention and Treatment of Capsules, Rippling and Deformities, American Society of Cosmetic Breast Surgery, Newport Beach, CA, May 2-3, 2008
Faculty speaker – Facial Fat Grafting, Video Fat grafting Presentation – Aging Face Symposium; Periareolar Breast Augmentation, What's New in Breast Augmentation – Breast Augmentation Symposium; Liposuction Complications – ASLSS Symposium; presented as part of the Annual Scientific Meeting of the AACS, Phoenix, AZ, Jan. 14, 2009
Faculty speaker – Advanced Fat Grafting Techniques – two-hour seminar presented with Dr. Suzan Obagi at the Annual Scientific Meeting of the AACS, Phoenix, AZ, Jan. 17, 2009
Faculty speaker – Prevention and Treatment of Capsules, Rippling and Deformities, American Society of Cosmetic Breast Surgery, Newport Beach, CA, June 6, 2009
Faculty speaker – 3 Dimensional Repair of the Aging Face – Annual Meeting of the California Academy of Cosmetic Surgery, San Diego, CA, Oct. 25, 2009
Invited Guest Speaker – Repairing Capsular Contracture – Special Presentation to the International Society of Cosmetogynegology, Orlando, FL, Jan 26, 2010
Faculty speaker – Facial Fat Grafting, Video Fat grafting Presentation – Aging Face Symposium; Periareolar Breast Augmentation, What's New in Breast Augmentation – Breast Augmentation Symposium; Liposuction Complications – ASLSS Symposium presented as part of the 26th Annual Scientific Meeting of the AACS, Orlando, FL, Jan. 27, 2010
Faculty speaker – Double Columellar Strut – paper presentation, 26th Annual Scientific Meeting of the AACS, Orlando, FL, Jan. 30, 2010
Faculty speaker – Advanced Fat Grafting Techniques – two-hour seminar presented with Dr. Suzan Obagi at the 26th Annual Scientific Meeting of the AACS, Phoenix, AZ, Jan. 29, 2010
Delegation to Tokyo to visit with Dr. Tatsuro Kamakura and Kotaro Yoshimura, observe surgery and discuss latest developments In fat grafting and stem cell preparation, Tokyo, Japan, April 1 – 3, 2010
Faculty speaker – Liposuction Course, presented Liposuction Complications, Autologous Fat Transfer; New York, NY, May 1-2, 2010
Keynote speaker – 3 D Face Lift; Repairing Capsule Contracture – The Pocket Protector, French Society of Aesthetic Surgery, Paris, France, May 11 – 12, 2010
Invited Faculty Speaker – 3 D Face Lift, World Congress of Minimally Invasive Plastic Surgery, Korean Society of Plastic Surgery, Seoul, South Korea, Sept. 11-12, 2010
Faculty speaker – 3 D Face Lift; Stem Cell Space Lift (video presentation), World Congress of Liposuction, American Academy of Cosmetic Surgery, Washington, DC, Oct. 1-3, 2010
Featured Guest Speaker – 3 D Face Lift, Annual Meeting of the American Society of Ophthalmic Plastic and Reconstructive Surgery, Chicago, IL, Oct. 13, 2010
Faculty – Advanced Fat Grafting Techniques taught with Suzan Obagi, MD; 27th Annual Scientific Meeting of the AACS, Phoenix, AZ, Jan. 13, 2011
Faculty – Stem Cell Advances and Current Use in Cosmetic Surgery with Kotaro Yoshimura, MD and Ziya Saylan, MD; 27th Annual Scientific Meeting of the AACS, Phoenix, AZ, Jan. 13, 2011
Invited Guest Speaker – Double Columellar Strut: 3 D Face Lift; Pocket Protector for Repairing Capsule Contracture, 15th Congress National – Moroccan Plastic Surgery Society, Casablanca, Morocco, March 25-26, 2011
Faculty Speaker – Prevention and Treatment of Capsules, Rippling and Deformities, American Society of Cosmetic Breast Surgery, Newport Beach, CA, April 29, 2011
Invited Guest Speaker – 3D Face Lift – 95th Annual Clinical Assembly of the American Osteopathic Colleges of Ophthalmology and Otolaryngology – Head and Neck Surgery Foundation, Tuscon, AZ, May 5, 2011
Invited Guest Instructor – 3 hour presentation - U.S./Taiwan Stem Cell / Fat Graft Symposium, Taipei, Taiwan, May 14, 2011
Invited Guest Speaker – 3 D Face Lift; Space Lift – Repairing Iatrogenic Defects, 1st Congress – International Cell Assisted Surgery, Istanbul, Turkey, May 28-29, 2011
Faculty – 3D Face Lift, The Aesthetic Show, Las Vegas, NV, June 5, 2011
Guest speaker – 3D Face Lift, The International Aesthetics, Cosmetics and Spa Association, Las Vegas, NV, June 17, 2011
Faculty – 3D Face Lift, Vegas Cosmetic Meeting, Las Vegas, NV, June 25, 2011
Invited Guest Speaker – The Pocket Protector, Stem Cell 101: Preliminary Experience, 3 D Face Lift, World Academy of Cosmetic Surgery, Vienna, Austria, September 1-4, 2011
Faculty – 3D Face Lift using the Adivive system, Palomar Medical, Washington, DC, September 10, 2011
Invited Guest Speaker – Stem Cell 101: Preliminary Experience; Repairing Iatrogenic Defects – the Space Lift; 3 D Face Lift; 3rd World Congress of Minimally Invasive Plastic Surgery, Shanghai, China, September 24-25, 2011
Faculty – 3D Face Lift using the Adivive System, Palomar Medical, Santa Monica, CA, October 15, 2011
Invited Guest Speaker – 3D Face Lift (stem cell/fat grafting); Introducing the Lipo-Mini and Stem Cell 101, Taiwan Academy of Facial Plastic and Reconstructive Surgery, Taipei, Taiwan, November 20, 2011
Faculty – Preliminary Experience with Adipose Derived Stem Cells for Therapeutic Uses and Session Director for Stem Cell Conference; Stem Cell Therapy in Practice: The Basics; Correction of Capsular Contracture and Other Breast Deformities; Stem Cells in Facial Surgery; Facial Volume Enhancement with Fat and Stem Cell Transfer, 2012 Annual Scientific Meeting of the American Academy of Cosmetic Surgery, Las Vegas, NV, January 18-21, 2012
Invited Guest Speaker – 3D Face Lift (stem cell/fat grafting); Stem Cells in Facial Surgery; 2012 Oculoplastic Conference, Austin, TX, March 23, 2012
Faculty – Autologous Fat Transfer for Breast Surgery; Stem Cell Therapy; 2012 Spring Symposium, American Academy of Cosmetic Surgery, Beaver Creek, CO, March 30 -31, 2012
Featured Speaker – Frontier in Stem Cell Therapy; Fat Transfer; 2012 Aesthethic Show, Las Vegas, NV, April 12-15, 2012
Faculty - Personal Preferences in Breast Augmentation and Repair; Stem Cell Therapy; 2012 American Society of Cosmetic Breast Surgery, Newport Beach, CA, May 4, 2012
Invited Guest Speaker – 3D Face Lift (stem cell/fat grafting); UCLA Jules Stein Occuloplastic Symposium, Los Angeles, CA, June 16, 2012
Invited Guest Speaker – 3 D Face Lift (using stem cell/fat grafting), The Double Columellar Strut: An Adjunct for Tip-plasty; 4th World Congress of Minimally Invasive Plastic Surgery, Seoul, South Korea, September 1, 2012
Faculty – Stem Cell 101: Preliminary Experiences with Adipose Derived Stromal Vascular Fraction, California Academy of Cosmetic Surgery Annual Meeting, Coronado, CA, November 3, 2012
Chairman – Stem Cell Session, All Day Pre-Conference meeting of the Annual Scientific Meeting of the American Academy of Cosmetic Surgery, Las Vegas, January 16, 2013
Faculty – Cosmetics to Therapeutics, Why the Transition? (talk about experience with adipose derived stem cells); Repairing Capsular Contracture following Breast Augmentation – using an e-PTFE Designed Bladder, Annual Scientific Meeting of the American Academy of Cosmetic Surgery, Las Vegas, January 16-19, 2013
Instructional Course in Hong Kong – Stromal Vascular Fraction and clinical preparation, Hong Kong, January 25-26, 2013
Cell Surgical Network – Training Session #5, Rancho Mirage, CA Feb. 8-9, 2013
Invited Guest Speaker – The Transition from Cosmetic to Therapeutic: Clinical Applications of Stromal Vascular Fraction; The Politics of Stem Cells and the Evolution of the Cell Surgical Network; FATS, Bangkok, Thailand, March 30, 2013
Faculty - Repairing Capsular Contracture; Repairing Rippling; The Magic of Fat: From Aesthetics to Therapeutics; Repairing Body Contour Defects, American Academy of Cosmetic Surgery – Breast and Body Contouring, St. Louis, MO, April 18-20, 2013
Invited Guest Speaker – From Cosmetics to Therapeutics: Establishing a Compliant Regenerative Medicine Program, Clinical Translation of Stem Cells Summit, Bio-Sciences, Rancho Mirage, CA April 22, 2013
Invited Guest Speaker – 3 D Stem Cell / Fat Transfer, Palomar Medical Symposium, Boca Raton, FL, April 27, 2013
Faculty – Cell Surgical Network, Training Session #6 Rancho Mirage, CA, May 3-4, 2013
Invited Guest Speaker – Stromal Vascular Fraction – From Cosmetics to Therapeutics; The Politics of Stem Cells and Cell Surgical Network, Seoul, South Korea, May 12, 2013
Faculty - Personal Preferences in Breast Augmentation and Repair; Stem Cell Therapy: Transition from Cosmetic to Therapeutic; 2013 American Society of Cosmetic Breast Surgery, Newport Beach, CA, May 3, 2013
Invited Guest Speaker – The Magic of Fat: The Transition from Cosmetic to Therapeutic; Korean Society of Plastic Surgery; Seoul, South Korea, May 12, 2013
Invited Speaker and Chairman of Regenerative Cell Therapy Session; Adipose Derived Stromal Vascular Fraction; 2013 Aesthethic Show, Las Vegas, NV, May 16-18, 2013
Featured Guest Speaker – 3D Stem Cell / Fat Graft for Facial Rejuvenation; The Magic of Fat: The Transition from Cosmetic To Therapeutic; Expert Breast Panel; The 101 Annual Japan Society of Aesthetic Surgery, Tokyo, Japan, June 15, 2013
Featured Invited Guest Speaker – 3D Stem Cell / Fat Graft for Facial Rejuvenation; The Magic of Fat: The Transition from Cosmetic to Therapeutic; The Pocket Protector for Repair of Capsular Contracture; International Workshop in South America focused on Ambulatory Cosmetic Surgery; Universidad Nacional de Noreste, World Academy of Cosmetic Surgery, and Asociacion Argentina de Medicina y Cirujia Cosmetica, Buenos Aires, Argentina, July 4-6, 2013
Book Chapter – The Double Columellar Strut: An Adjunct to Improve the Nasal Tip, Advanced Aesthetic Rhinoplasty, Editors – Shiffman, DiGiuseppe, Springer, 2013
Invited Guest Speaker – Discussion of the Therapeutic Use of Autologous Adipose Stromal Vascular Fraction, organized by Dr. Z Teo and Dr. Aivee Aguilar-Teo, presented to journalists and invited guests at the Manila Peninsula; live teaching instruction at their office later that day, Manila, Philippines, August 19, 2013
Invited Guest Speaker – The Magic of Fat – For Therapeutic Advantage; The Politics of Stem Cells (and FDA Issues), presented on consecutive days to journalists and invited guests at the offices of Dr. Enrina Diah, and the next day to invited doctors at a conference held on the campus of ProStem Laboratories, Jakarta, Indonesia, August 21,22, 2013
Faculty Speaker and moderator – Adipose Derived Stromal Vascular Fraction; World Congress on Liposuction and Body Contouring; New York, NY, October 4, 2013
Book Chapter – Peri-orbital Fat Grafting – The 3 D Lift, Chapter 7; Non-Surgical Peri-orbital Rejuvenation, Myint, Shoib, editor, Springer, 2013
Invited Guest Speaker – The Magic of Fat – From Cosmetics to Therapeutics, Why the Transition?, American College of Advancement of Medicine Annual Meeting, Rancho Mirage, CA November 20, 2013
Invited Guest Speaker – The 3D Stem Cell Fat Graft; The Magic of Fat: From Cosmetic to Therapeutic; The Double Collumellar Strut; Video Presentation of 3D Stem Cell Fat Graft; Live surgical demonstration of 3D Stem Cell Fat Grafting; - Middle East Congress for the ICAAM, Dubai, UAE, December 6-8, 2013
Chairman – Stem Cell Session, All Day Pre-Conference meeting of the Annual Scientific Meeting of the American Academy of Cosmetic Surgery, Hollywood, FL, January 14, 2014
Faculty – Cosmetics to Therapeutics, Why the Transition? (talk about experience with adipose derived stem cells); Politics of Stem Cells: FDA Issues; Annual Scientific Meeting of the AACS, Hollywood, FL, January 14, 16, 2014
Invited Guest Speaker – Fat Grafting in the Periocular Area (video presentation); The Double Columellar Strut (Rhinoplasty); The Magic of Fat: From Aesthetics to Therapeutics; 3D Facial Rejuvenation; AMWC 2014 - 12th Anti-Aging Medicine World Congress – Monte Carlo, Monaco, April 2-5, 2014
Invited Guest Speaker – Clinical Applications of Stromal Vascular Fraction – Safety and Function of the Cell Surgical Network; The Politics of Stem Cells and the Evolution of the Cell Surgical Network; FATS, Bangkok, Thailand, April 18, 2014
Invited Guest Speaker – Adipose Derived Stromal Vascular Fraction and the FDA: The Cell Surgical Network Position, Clinical Translation of Stem Cells Summit, Bio-Sciences, Palm Desert, CA April 21, 2014
Faculty - Personal Preferences in Breast Augmentation and Repair; Stem Cell Therapy: Transition from Cosmetic to Therapeutic; 2014 American Society of Cosmetic Breast Surgery, Newport Beach, CA, May 2, 2014
Featured Guest Speaker – The current situation of ADSC in the USA; The ADSC treatments and the results obtained by CSN; The 102 Annual Japan Society of Aesthetic Surgery, Tokyo, Japan, June 7, 2014
Invited Guest Speaker – Adipose Stem Cell Therapy for Your Patients – The Evolution of Cell Surgical Network; The 7th World Medical Tourism and Global Healthcare; Washington, DC, September, 2014
Invited Featured Speaker – North American Summit on Fat Grafting 2014, Workshop presentation: 3D Stem Cell / Fat Grafting; Video Presentation of 3D Stem Cell / Fat Grafting; Complications of 3D Stem Cell / Fat Grafting; Evolution to Therapeutic Stem Cell Deployment; Las Vegas, November 8, 2014
Chairman – Stem Cell Session, Master's Session, All Day Conference meeting of the Annual Scientific Meeting of the American Academy of Cosmetic Surgery, New Orleans, LA, January 15, 2015
Faculty – 2015 - Politics of Stem Cells: FDA Issues; Annual Scientific Meeting of the AACS, New Orleans, LA, January 15, 2015
Faculty – Instructional Course; 3D Stem Cell Fat Graft – powerpoint and video presentations, 1 ½ hour morning session, Annual Scientific Meeting of the AACS, New Orleans, LA, January 15, 2015
Keynote Speaker – Cell Surgical Network's Approach to Point-of-Care Deployment in Surgical Regenerative Medicine, Meeting for Select Biosciences, Boston, MA, February 9, 2015
Faculty - Personal Preferences in Breast Augmentation and Repair; Stem Cell Therapy: Transition from Cosmetic to Therapeutic; 2015 American Society of Cosmetic Breast Surgery, Newport Beach, CA, May 1, 2015
Speaker and Section Chairman – The Art of Fat Grafting – A Global Perspective – Advantages for Aesthetic and Reconstructive Surgery; From Aesthetics to Therapeutics: Fat transfer and stem Cells; Fat Grafting Southeast Asia Summit 2015; Singapore, May 9, 2015
Guest Speaker – Controlled Studies with Stromal Vascular Fraction – From Aesthetics to Therapeutics, Annual Meeting of the Academy of Regenerative Practices, Ft. Lauderdale, FL, June 5-6, 2015
Guest speaker - 3D Lipofilling; Adapting Stem Cell Techniques for your Practice, The Aesthetics Show, Las Vegas, NV, July 11,2015
Book - Stem Cell Revolution – co-written with Elliot Lander, MD, published through AuthorHouse, September 2015
Speaker – Advancements in Neuro-Degenerative Conditions, 13th Annual Neural Transplantation Symposium, Beijing, China, September 18, 2015
Speaker – The Cell Surgical Network Experience, 1st Annual Stem Cell Conference, Memorial Hospital, Jacksonville, FL, October 16 2015
Keynote Speaker – A Roadmap to Point-of-Care to SVF Surgical Production and Deployment; Live Demonstration of CSN Technique for Surgical Production and Deployment of SVF, Select Biosciences Stem Cell Translational Medicine, San Diego, CA November 9-10, 2015
Keynote Speaker - 3D stem cell / fat grafting for natural facial rejuvenation + Incorporating Adipose Derived Stromal Vascular Fraction (stem cells) into your practice NOW; The Cell Surgical Network Program, 20th Annual Meeting of the American Academy of Aesthetic Medicine, Miami, FL, November 14, 2015
Faculty / Speaker – 3D Stem Cell / Fat Graft; Establishing a Point of Care Center for Adipose Stromal Vascular Fraction; Annual Scientific Meeting of the American Academy of Cosmetic Surgery, Hollywood, FL, January 16, 2016
Guest Speaker – Point of Care Stromal Vascular Fraction – The CSN Experience, Winter Meeting of the Academy of Regenerative Practices, Ft. Lauderdale, FL, February 5-6, 2016
Faculty – The CSN Experience, FDA Issues, Video presentation on methodology of SVF Point of Care production, Stem Cells Now Meeting, Bangkok, Thailand, March 5, 2016
Invited Guest Speaker – Adipose Derived Stem Cells: From Aesthetics to Therapeutics – the Evolution of the Cell Surgical Network; FATS, Bangkok, Thailand, April 22, 2016
Faculty - Personal Preferences in Breast Augmentation and Repair; Stem Cell Therapy: Transition from Cosmetic to Therapeutic; 2016 American Society of Cosmetic Breast Surgery, Newport Beach, CA, April 29, 2016
Invited Guest Speaker – The History and Future of Stromal Vascular Fraction, Florida Society of Interventional Pain Physicians, Orlando, FL, May 20, 2016
Keynote speaker – From Aesthetics to Therapeutics: Developing a Stem Cell Practice Now, 3D Stem Cell / Fat Graft: Fundamental Principles and Current Developments, Live Demonstration Surgery – 3D Facial Fat Graft Procedure, 3rd Chinese Academic Conference on Adipose Plastic Surgery and Symposium on Adipose Transplantation, Shanghai, China, July 1-3, 2016
Featured speaker – Stem Cell Therapy – An Advanced Symposium – 4 hour pre-conference session; Latest Advancements in Stem Cell Processing and Transplantation, The Aesthetic Show, Las Vegas, NV, July 7-10, 2016
Media appearances:
Channel 9 News - L.A. - "Computer Imaging" - March 1986
Channel 52 Mundo Latino - "Computer Imaging and Cosmetic Surgery" - interview in Spanish - March 1986
ABC Home Show - "Computer Imaging and Cosmetic Surgery" - live patient demonstration (surgery subsequently performed after interview) - March 1988
Hour Magazine with Gary Collins - "Fat Grafting and Computer Imaging Demonstration" - November 1988
ABC Home Show - "Fat Grafting in Cosmetic Surgery" - pre-taped surgical demonstration with follow-up in studio interview - March 1989
Cara a Cara - Spanish television show - channel 52 - invited guest speaker to demonstrate and speak about liposuction and cellulite - 10/90
Channel 9 News - L.A. - 2/91 cosmetic surgery interview
ABC Home Show - live demonstration of face-lift, blepharoplasty, facial fat grafting, and chemical peel with in-studio follow-up interview with patient - 3/13, 3/16, and 3/31/92
The Vicki Show - demonstration of liposuction surgery (taped) with in studio interview, discussion, and questions from audience - October 20, 1994
The Marilyn Kagan Show - psychology of appearance - interview, discussion, questions from audience - (taped 5/95) aired July 12, 1995
Leeza - demonstration of Gore-Tex™ implants for lip enhancement with interview and panel discussions - taped 5/31/96
The Bradshaw Difference - discussed the silicone breast implant controversy 11/8/96
Good Day, L.A. - demonstrated Gore-Tex™ implant for lip enhancement, live, 11/24/96
Channel 34 - Spanish News Program - discussion of liposuction 3/97 Spanish interview (several interviews in 97 and 98)
Home and Family - computer imaging demonstration and discussion of facial aging, corrections with fat transplants and Gore- Tex™, 3/25/97
Caryl and Marilyn Show - guest discussing liposuction surgery - 5/2/97
Good Day L.A. - channel 11 - discussed breast augmentation and performed live breast augmentation operation at office via remote satellite feed, 8/7/97
Inside Edition - interview re: teen cosmetic surgery - 9/12/97
Hard Copy - interview re: body lifting procedures - TBA
The Live Show - KTLA interview re: aging face, fat grafting - 1/98
The Live Show - KTLA interview re: cosmetic surgery, 3/98
The Live Show - interview re: liposuction performed on Stephanie Edwards, show's host, 6/5/98 by me. On 6/8/98 in-studio interview to discuss the procedure
National Enquirer - Nov. 98 - ran a positive article about the virtues of fat injections to reverse the appearance of the aging face
Leeza - discussed aspects of breast surgery - 2/3/99
Jenny Jones Show - performed and discussed liposuction as part of a cosmetic make-over show - 4/29/99
Fox News - feature on volume restoration (via fat grafting) of the aging face, 11/30/99
National Enquirer TV Show - discussing liposuction safety
KABC Radio - Stephanie Miller Show - discussing cosmetic surgery 2/10/00
In Style - small article re: volume restoration for aging face, 6/00
Cosmetic Surgery magazine - featured in article - "Restoring Youth - Fat Grafting" by Jodi Thiessen, Aug, 2001
KCOP - television interview about Breast Surgery, Appearance and Psychology, May 2002
KCOP/Fox News – interview regarding Space Lift (volume restoration for aging face – Novemeber 2002
KMIR Palm Desert Channel 4 (NBC affiliate) – Live News interview: Regarding the Pocket Protector; 9/30/03
Several News programs around US featuring the Pocket Protector, Feb and March 2004
The Wellness Hour – Half-hour discussions about the Pocket Protector and breast surgery (filmed in 3/03, and 7/04)
Fox News at 10, "Discussing Facial Fat Grafting," Oct. 25, 2004
KTLA News, Interview with Marta Waller re: The Pocket Protector 3/05
W Magazine – featured in article about breast surgery – April 2005
Cosmetic Surgery Times – Featured in two articles – New Technologies In Cosmetic Surgery; Pocket Protector, April 2006
Cosmetic Surgery Times – Featured in one article – Blepharoplasty Performed by Fat Grafting (the Space Lift), May 2006
Invited Speaker – Association of Health Care Journalists, Studio City, CA, March 17, 2007
Fox News at 10, Repairing Breasts – The Pocket Protector, 7/7/08
Media Tour for the American Academy of Cosmetic Surgery as President of the AACS – Procedural Survey results – via studios in New York City – 18 TV and 7 radio interviews, March 9, 2010
Midday Sunday with Tony Valdez, Fox 11 News, Discussing Stem Cells and Cosmetic Surgery, 4/11/10
Fox News at 10, Discussing Medical Tourism Abroad, 10/7/10
Fox News – Filmed and discussed Fat grafts and Stem Cell issue for facial rejuvenation, 7/25/11
Good Morning Philippines with Karen Davila – special guest appearing to discuss adipose derived stem cell issues, 8/19/13
Fox News – Adipose derived stem cells – discussion of Cell Surgical Network progress, November 17, 2013
CBS News – Story about how adipose derived stromal vascular fraction was used to reverse blindness in patient with optic neuritis, May 14, 2014
The Doctors TV Show – featured story about SVF therapy for optic neuritis patient, Oct. 3, 2014
The Doctors TV Show – featured interview – Stem Cells Hope vs. Hype, January 22, 2015
Associated Press – multiple articles and video re: Cell Surgical Network, appearing in multiple newspapers and online venues, May 19-20, 2015
Popular Science article – The Cure, by Tyler Graham, June 2015
Wall Street Journal, Stem-Cell Treatments Become More Available, and Face More Scrutiny, Melinda Beck, August 29, 2016
The Washington Post - Stem-cell clinics face new scrutiny from federal regulators, Laurie McGinley, September 12, 2016
Malibu Surfside News – Berman offers peek into the "Stem Cell Revolution," Barbara Burke, February 1, 2017
The Healing Miracle – online Docuseries about stem cells, Episode 7, May – June, 2018
Prepared: July 17, 2018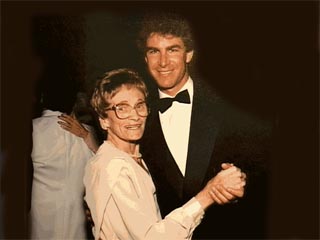 Sarah, my wife's grandmother, used to say she still felt like she was 18. When she thought of herself in her dreams, or in general, she always had the best image of herself, which was 18 for her. She lived a full, happy and purposeful life. She was the most successful person I ever knew.